How To Dress Like A 90s Kid?
How to dress like a 90s kid? First, you need to find the right clothes. Old Navy and H&M have great options for 90s inspired looks. You can also raid your parent's or grandparents' closets for old clothes that will work. T-shirts with big logos, overalls, baggy jeans, and flannel shirts are all popular items from the 90s.
Once you have the clothes, it's time to put them together. For guys, try pairing a t-shirt with baggy jeans and a backward hat. For girls, a plaid skirt or oversized sweater are both great choices. Don't be afraid to mix and match different pieces to create your own unique look.
Note: This post may contain affiliate links, which means if you buy from my link I might make a small commission. This does not affect the price you pay. See the full affiliate disclosure here.
Finish your look with some 90s inspired accessories. A choker, slap bracelet, or fanny pack are all great choices. And don't forget to tease your hair into a high ponytail or use lots of gel to create those signature 90s waves.
With these tips, you'll be able to dress like a 90s kid in no time!
How To Dress Like A 90s Kid: Male Outfit
When dressing like a 90's male kid, you'll want to start by looking for clothing that is baggy and comfortable. Jeans, white shirt, and a striped polo is a good choice.
You can also try out a graphic t shirt with jeans. You can usually find cool graphic shirts at thrift stores or garage sales. For shoes, go with a classic white sneakers – easy to pair.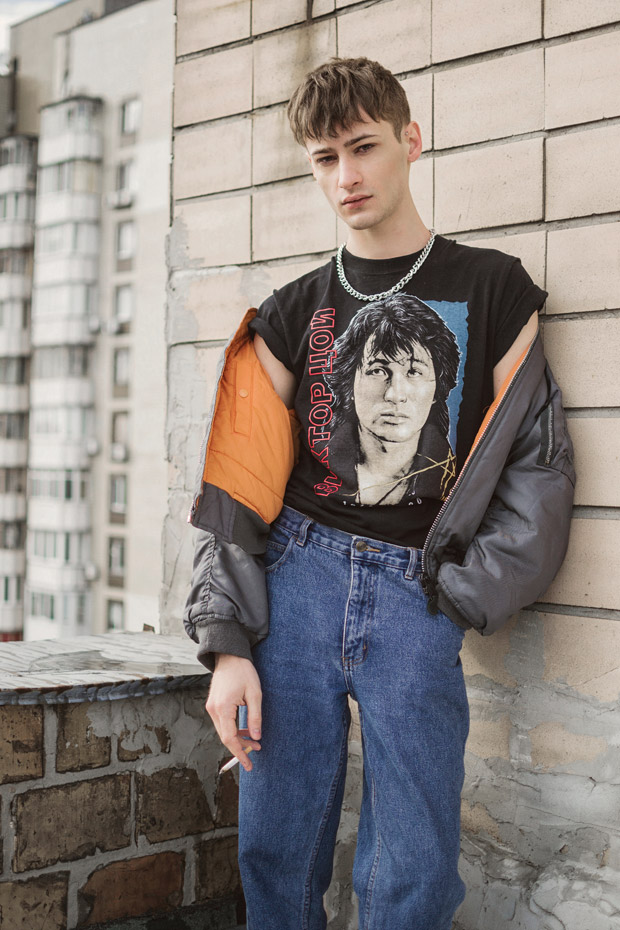 To complete the look, you'll also need some accessories. A baseball cap or beanie is a must-have, and sunglasses and a backpack are also popular choices. If you want to add a little extra flair, try getting a Bomber jacket or some other type of 90's apparel.
How To Dress Like A 90s Kid: Female Outfit
The 90s fashion can be described as comfortable (which some might think of as baggy) and fun (with the colorful prints).
If you're trying to dress like a 90s female kid, here are a few tips to help you out.
First and foremost, bring out your personality. You may prefer plaid prints or colorful block prints – show it off!
Second, you can pick mom jeans or something baggy and comfortable. It's not as popular now, but if you want to tone it down, you can pair something baggy with something fitted to balance it out.
Pair an oversized sweater with a short mini skirt!
With these tips in mind, you should be able to dress like a 90s female kid in no time.
Fashion Trends That The '90s Kids Rocked
The '90s were a great time for fashion, and one of the most popular trends was military-inspired style. Leading this charge was an iconic jacket that earned its popularity with designer Raf Simons' designs from designers like Dior or Yves Saint Laurentâ€â€and it wasn't just seen on runway models either! A huge boost came when Tom Cruise wore his blue denim-covered version in Top Gun which set off further interest among moviegoers everywhere who wanted to know how close they could get without going through boot camp (we're lookin' at YOU Natalie Portman).
The '90s were an era of minimalism, but not everyone knew how to take it all off. Minimalist fashion has been trending recently with designers such as Roland Mouret who designs Slip dresses that hug every curve just enough for you need be comfortable without being too revealing or inappropriate at any given time
Makes me want to do it again.
Look at Julia Stiles rocking a slip dress from the 90s movie 10 Things I Hate About You!
Fanny packs were once just for tourists to keep an eye on their belongings, but in the 1990s they became fashionable. One designer who saw this trend coming was Karl Lagerfeld of Chanel; his collection featured fanny packs worn by models on its runway back in 1994 which would eventually become one example among many other styles that defined our decade of fashion (and remain popular today).
If you don't like fanny packs, another popular bag during the 90s was the baguette bag.
The '90s were a colorful time in American history, and no form of clothing reflected this more than plaid flannel shirts. Whether worn slouched over one shoulder or tied around your waistline – the only thing these shirts lacked was caffeine stains from chain coffee shops.
It's hard to believe that timberlands go back as far in history. Nathan Swartz, an engineer and designer of some cultural significance for his design with blue collar workers originally designed them during the '90s but by then they had already become a status symbol among hip hop artists like Nas or Notorious B.Ig who wore these boots under their clothes while getting ready at shows (and even naming himself after them).
The scrunchie was the most popular fashion accessory for 90s teens, appearing in almost every scene and on screens big (Saved by Bell) as well small.
In recent years we have seen a renewed interest in this simple yet stylish hair elastic which can be used to create waves or spikes with just one tug.
The chain wallet is a symbol of the '90s and grunge scenes. It's now considered one of those things you shouldn't have been wearing in your school pictures because it was so out there, but back then everyone wanted something that said "I don't give two shits about what society thinks."
The docksiders were a fashion missed opportunity in the '90s. similar to how chinos became popular among younger people, there was no need for this style when they were already out-of-date dad shoes from decades before.