10 Challenges Women With Big Breast Face
Did you know there is a part of the body called 'under the breast?' Now you know! This body part is unique to women with big breasts or saggy ones.
And speaking of saggy breasts, it is disgusting that some people body shame women with saggy breasts claiming that they are promiscuous. This is not the case, breasts come in different sizes and shapes, and we have no control over that.
As a woman with big boobs, I feel it is time to share some of our challenges. Do not get me wrong; I love my boobs; they go well with my body type. Also, they get me lots of attention, and sometimes I leave a little cleavage to tease boys.
Note: This post may contain affiliate links, which means if you buy from my link I might make a small commission. This does not affect the price you pay. See the full affiliate disclosure here.
In this article, there are ten challenges women with big breast face.
1. Big breasts bring lots of unwanted attention.
I have said up there that sometimes I enjoy the attention I get from my boobs. However, I only enjoy this attention when it comes from someone I want to impress. If the attention comes from someone I do not fancy, it becomes offensive for some reason.
2. Women with big breasts are over-sexualized
Women with big breasts cannot even count how many inappropriate comments they get in a day about their boobs. Whether it is in person or online, the comments are everywhere.
One lady told me she was peacefully walking on the street. When she looked up, she saw a man stretching his hands as if he were describing something big. His eyes were on her chest with a very disgusting facial expression. Only God could tell what was going on in his mind.
3. Sometimes, the breasts ache.
Some activities cause a lot of pain to the breast of women with big boobs. Jumping, running, and descending stairs are not our cups of tea. Jumping and running make you feel like your breast detaches from the body with the up and down movement.
So, Kindly when you see us running while holding our breasts, just let us be. Another time when our bobbies ache is when we are having our periods. We experience, though not everyone, something called breast cramping.
4. We don't do the No bra day.
Every year 12th of October, we have "No bra Day." Speaking for women with big boobs, we would love to be part of the "No bra" day to create awareness on Breast cancer, but that can be hard for us. I have seen some women do it; kindly let us know how you deal with the sweat under the boobs.
Women with big boobs sweat in odd places, like Under the boobs, which is uncomfortable. Did I mention that you must lift your boobs when bathing to wash that unique part of the body?
Also, we cannot work without our bras, especially when we are required to bend. Our boobs will be left hanging, which is quite uncomfortable.
5. Hard to administer CPR to women with big breasts
In cases of accidents or emergencies that may require a woman with big breasts to be administered CPR, that won't be easy. You will have to undress her first because her chest is covered with boobs. It would be impossible to get to her chest bone.
6. Getting the right size bra
I strongly feel women with big boobs have the most bras in their wardrobes. However, only two or three are usable. Finding the right bra size is a nightmare. You can get a bra with the right Cup size but the wrong Band size and vice versa. Or the right cup size with the wrong strap size and vice versa.
You can find the right size bra from a certain company and get a bra in the same size from a different company that won't fit. We have been left not sure of our bra sizes.
But I thank God, now some stores can custom make bras for you, but this brings to the next challenge women with big boobs face.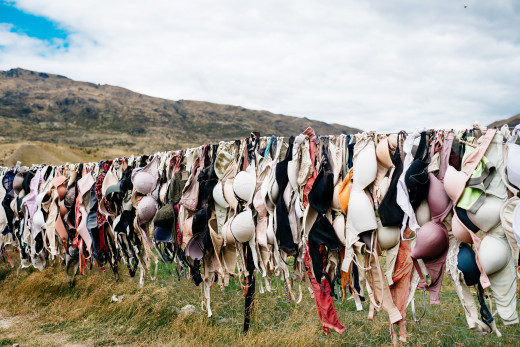 7. Big bras are expensive.
The difference between the price of small bras and the price of big bras is huge. Recently my sister told me how much she spends on her bras. I was jealous. She will have three bras for my one bra with the same amount of money. That is the price of ready-made bras. The bras we custom make are way expensive.
And did I mention that our bras come in Three colors, black and brown? Though recently I found a white one and I could not be happier.
8. Big breasts limit the type of clothes we wear
There are certain clothes you cannot wear when you have big boobs. For example, clothes with buttons on the upper side. The button at the boobs always looks like it is struggling. And, of course, it will keep opening.
Pull necks exaggerate the size of our boobs. They make them appear bigger and funny. However, in this era of body positivity, we wear them anyway. We will not let a good outfit pass us because of how we might look.
Sleeveless dresses are hard to wear because they will show your straps. I know you are wondering why not we use strapless bras. But that kind of bra does not hold our boobs fine.
Again I am happy for the times we are living in. There are boob tapes that can be used in place of bras. I have not used them so far; I get paranoid it could lose the glue and leave my breasts hanging in the middle of the day.
9. Women with big breasts experience wardrobe malfunctions often
Most women with big breasts are so used to wardrobe malfunctions that they do not shy away from fixing them anywhere and everywhere.
The most common wardrobe malfunction is one of your breasts leaving its cup. Your breast pops out when you get the wrong bra size. It gives you a funny look around your chest area and attracts lots of attention.
The other common malfunction is your band's bra opening. I do not know why this happens, but I know every big-breasted woman has experienced this.
10. Finding the right sleeping position is hard.
Finding the best sleeping position is a hustle for women with big breasts. Sleeping on your back makes you tired. When you sleep on your stomach, you press your precious boobs. And sleeping on your side is tiresome.
The good thing is, eventually, we find a comfortable position until we find ourselves on a different bed. Suddenly our boobs are a bother.